Decellularizing an Apple
with Catherine Telford-Keogh
July 11th, 2019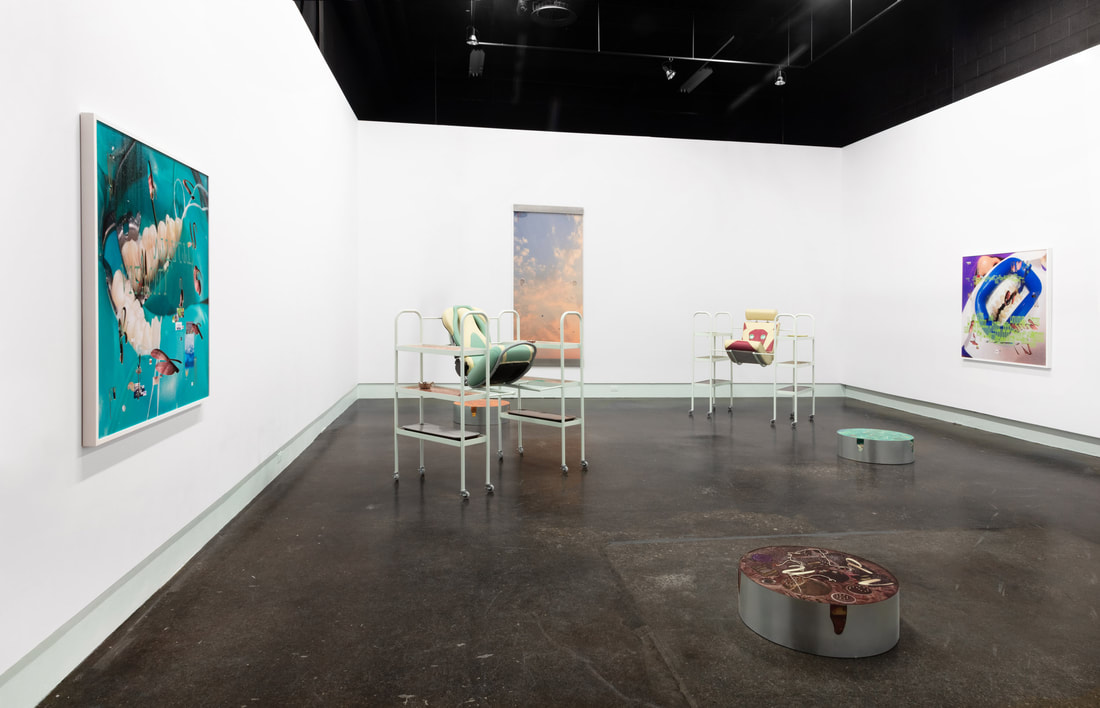 listen in iTunes
Artist Catherine Telford-Keogh is in residency at the Pelling Laboratory for Biophysical Manipulation at the University of Ottawa. (She's Canadian!) Her recent sculptures are made out of cells on view at Interstate in Bushwick, NY. We talk art, energy drinks, healthcare, and getting kicked out of the United States.
Donate to
RAICES
.
Show Notes


Catherine Telford-Keogh
Pelling Laboratory for Biophysical Manipulation
Bioart
Monster lab drinks
Healthcare
Canada
Henrietta Lacks
Jasbir Puar
Assemblages
Interstate
Jessica Stockholder
Rosalind Krauss
Sculpture
Images

1.
Catherine Telford Keogh.
2-3.
Installation view 'Dental Dam' at UWAG, Waterloo, Canada.
4.
XXXHesperides. Total Immanence, Plexiglas®, vitaminwater®, Squeezed Lemonade®, Vinyl Image Mounted on Styrene, Powder Coated (Honda Silver), Steel Brackets, 86 x 1.5 x 40 inches, 2018.
5-7.
Common Place: Common-Place
@artmuseumuoft curated by @lillianione X Supplement Aggregate Simulator X (heap of human-junk piled mercilessly onto a green municipal bench against the bold, stenciled white letters that warned of the penalties of littering in a public park), Glass, Plexiglas®, Brite White Matte Formica®, Pigmented FlexFoam-iT! ® III, Dial® Omega Moisture Glycerin Soap with Sea Berries, Lasercut Deconstructed Plexiglas® Logos, Nature's Path® Qi'a® Superfood Apple Cinnamon Chia Buckwheat and Hemp Cereal, Extra® Sugar Free Gum, Vinyl Digital Prints on Plexiglas®, Yankee Candle® Home Sweet Home® Fragrance Spheres™, Advil® Extra Strength Pain Relief, Betty Crocker®, Steel Bowls, OREO® O's, Bick's® Dill Pickles, Advil®, Nickel-Plated Chains, Hot Dog Trays 8-Pack, Smooth-Cast® 325, 326, IKEA Dog Bowl, Bio-Pure®, Deconstructed Lasercut Vinyl Logo, 14 x 45.15 x 45.15 in, 2019.
8.
XAutopoiesis, Secretly Omega 5109201
, X-Rocker Pro Series Gamer Chair, Granite, Powder Coated (Toyota Green) Steel Tubes, Bio-Pure®, Saliva, Shell® Petroleum, Cafeteria Tray, Rubber Caster Wheels, Extra® Sugar Free Gum, Spearmint® Trident® Sugar Free Gum Watermelon Twist®, Nickel Chain, Plexiglas®, 38 x 25 x 45 inches, 2018
9.
Video still.
Look Inside and You Will Find Me,
Carlos Vela Prado and I press our pupils together. A professional meditation voice actor reads my text that guides the viewer through an online body scan meditation, 2015.